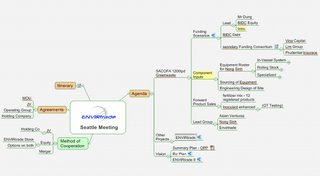 I have just returned from a critical meeting and used mind maps to convey a tremendously complicated situation and information rich presentation to a very important partner. As you can see the varied topics of discussion it is an extraordinary amount of information to be conveyed ... Look closely at the map and you will see links to other maps ... there were a total of six submaps in the presentation that branched from here and from the subs. I was able to let information and proposals distill from the main map down to the specifics of each. There were also links to spreadsheets, pdf files, docs and pics ... all included in this one sheet ...
The presentation showed the value of this method ... this was a one on one meeting that more or less created a face to face environment to an associate that we had been courting for years and we are finally ready to move forward on a project ... I tried here to create a general framework and flow as we had only a few hours ...
Real world 101 ... I laid everything out meticulously and printed out each map and supporting document and assembled them in a folder to create hard copy, I kept the tablet with me and loaded both mindmanager and gobinder ... I took notes in gobinder as the meeting went on and wrote down notes ( more on this in a later posting ) ... the value of doing things this way was that I let my partner talk first and he actually fleshed out several concepts that were covered in the map, so I showed him the reference and he immediately got the concept as I had fleshed it out ... seeing the picture of the specific in context of the overall flow is an incredibly empowering tool for discussions ... it allows you to immediately convey direction and focus and it gets your ideas and points out in a quickly digested format ... as the discussions continued several more references were fleshed out in other maps that I had printed and we quickly came to agreement and created a process to go forward (which I incidentally mapped on the plane trip back). I could not work without using the mindmapping tool anymore ... it gives you a tightness and focus that cannot be done with any other means ... I could have used the tablet PC to supplement, but just having the printouts to scratch on by both of us was incredibly valuable ....