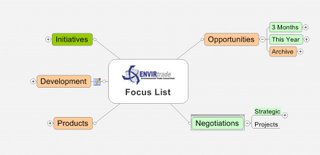 I have been a longtime
MindManager
user .. in fact, I have several of these type of programs installed on my machine but keep coming back to this as my most useful app. I have used this program for managing an extensive portfolio of projects all in different stages ... I utilize the program in a different way from most methods that I have seen for managing information ... let me go through the thought process ....
I need to focus on opportunities based on location and time, so the opportunities section is divided into prospects that are close or within the year ... further I have an archive section that is used for missed opportunities or those that are on hold ... that way attention need not be paid there on a daily scan but when time permits ... the other side of the map is for task based items like negotiations, meetings, product development, etc .... I use color on the sections throughout to key whether things need attention or are immenent ...
Now here is one of the items that I could not live without ... since a lot of our projects are all over the world, the info comes in as a steady flow throught emails and attachments ... I use individual subsections each time a significant point happens in a project, so you can burrow down based on the chronology ... I use the note feature and copy and paste email info into the notes, so when I need to refer back for info, it is available right on the branch, no more searching for info ... I then have files, etc all linked to the branch, so it becomes a self contained project overview ... an added ability is resource management and time elapsed, I use the task info to show assigned resources and also I will put a start date to shown when we started and a finish if we have certain time constraints on a branch ... makes for a wonderful map that you can see everything and in as much detail as you need or just stare at the big picture ... works for me ....